X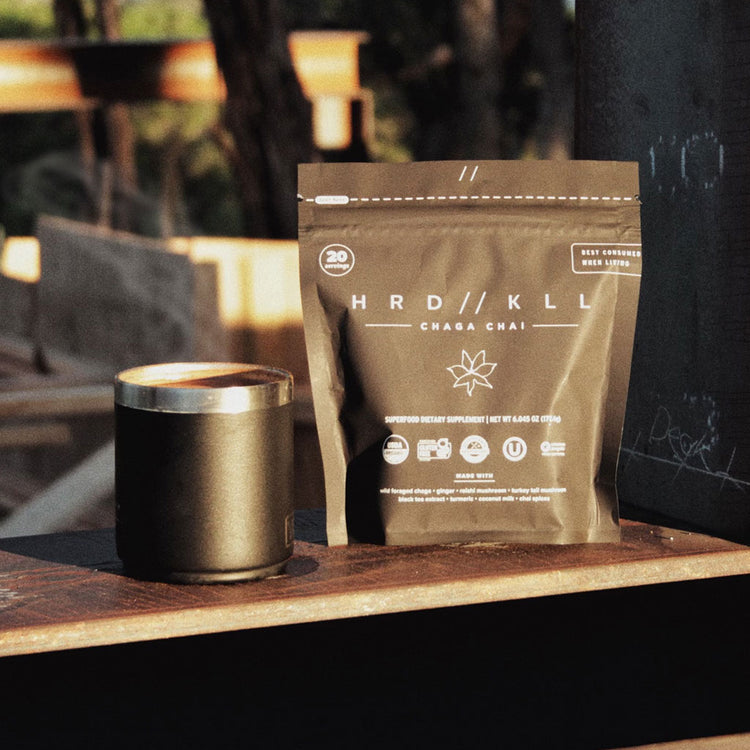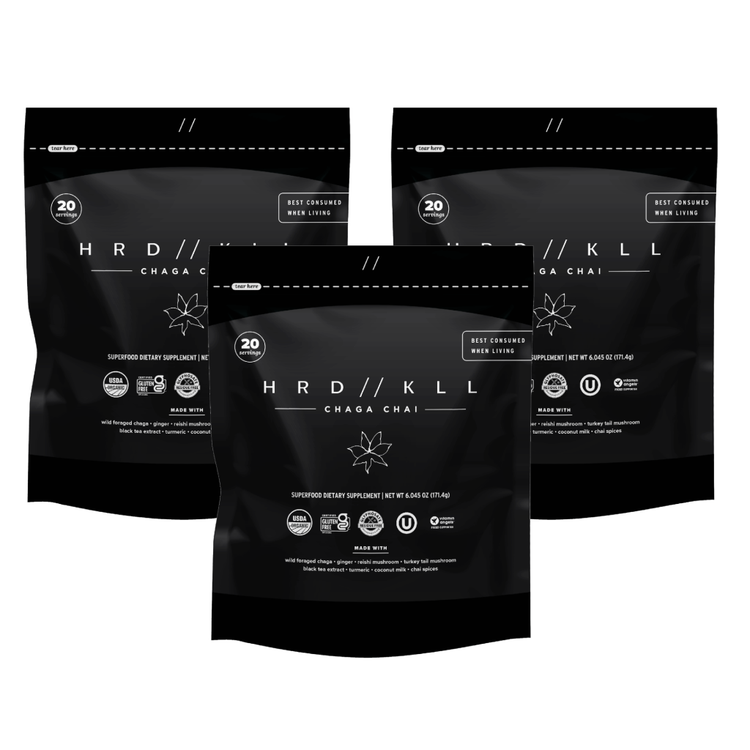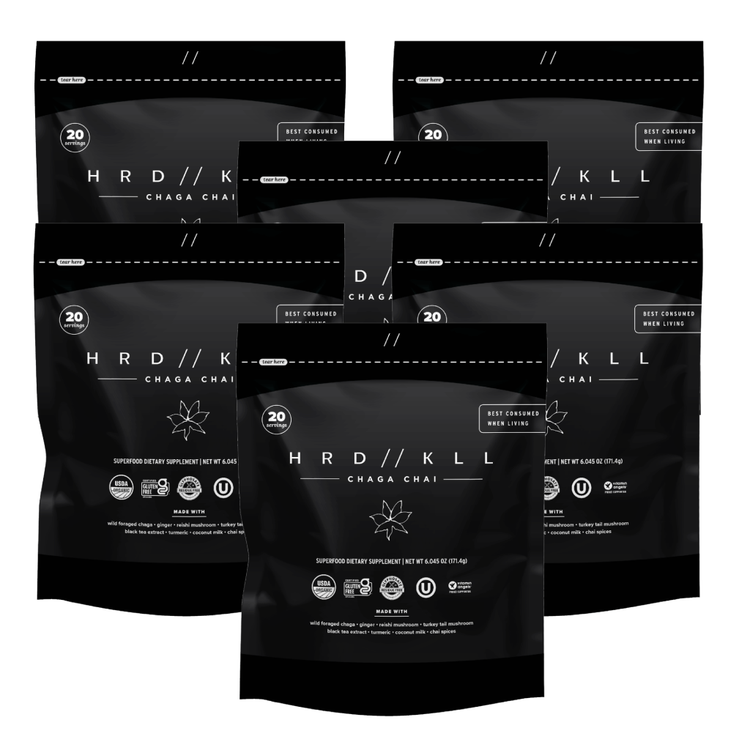 This Is That Fuel.
H R D // K L L Chai is all the ancient spices and functional mushrooms to make it beneficial with the convenience of modern day availability. The energizing blend of Wild foraged Chaga, Reishi, and Turkey Tail mushrooms, 50mg of caffeine from organic black tea along with a digestive blend of ancient organic spices make you harder to kill. There are many ways to enjoy this concoction, as a tea or latte, or add it to your espresso for a downright dirty chai.Energizing — Polyphenol-rich organic black tea and potent adaptogensBalancing — Powerful mushroom extracts and adaptogenic herbs supporting your body and mindNourishing — Ancient superfoods delivering powerful micronutrients and antioxidants to make you harder to kill 
Black Tea
Natural, non-jittery caffeine from the leaves of the Camellia sinensis, which is rich in health-supporting polyphenols.
Wild Foraged Chaga
This hearty fungus — called "black gold" for its immune-support and digestive benefits — is high in antioxidants.
Reishi Mushroom
An adaptogen that's also known as the "Grounding Mushroom" because of its calming effect on the body.

Turmeric
An ancient root containing the active ingredient curcumin, which has been used in traditional medicine for over 4,000 years.

Turkey Tail Mushroom
Used in China since the 15th century because of its rich antioxidant properties and recovery support.
Ginger
A highly celebrated superfood known for its adaptogenic-like properties and its vast array of therapeutic compounds.

Coconut Milk
A great source of healthy fat and MCTs. It boosts metabolism and the absorption of fat-soluble nutrients along with its antifungal properties.

Chai Spice
A blend of organic nutmeg, cardamom, and clove powders with incredible antioxidant and antimicrobial properties that supports digestive health.
Spiced Morning Brew to Provide the Body with an Energetic Advantage
Black tea and mushrooms with zero sugar and 50mg of natural caffeine. LEARN MORE »
Caffeine vs. Caffeine: What's the Difference?
The difference is the source. Consuming unregulated, poorly crafted coffee can release extra cortisol, causing jitters, anxiety, and an inevitable crash. Most people today are already dealing with high cortisol levels because of constant stress.

Black tea is high in polyphenols that regulate caffeine, therefore mitigating the risk of jitters, crashes, or an increased stress response. We also added reishi, chaga, and ginger to Chaga Chai because they further regulate cortisol and stress while also bringing equilibrium to the body. It's a calm kind of energy.
Pair With These Other Adaptogenic Blends
Design your all-day, everyday routine.
Harmony
This delicious cacao blend is designed to support women's health using traditional herbs and adaptogens.
add to cart - $69.95
Green Juice
Reset your body every morning with 11 detoxifying superfoods that reduce stress and support weight management.¹
add to cart - $69.95