X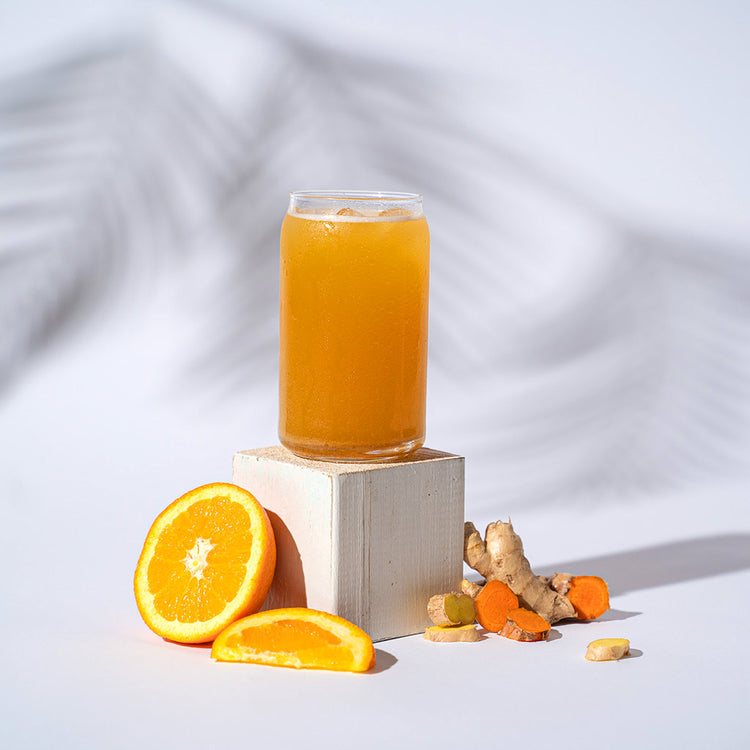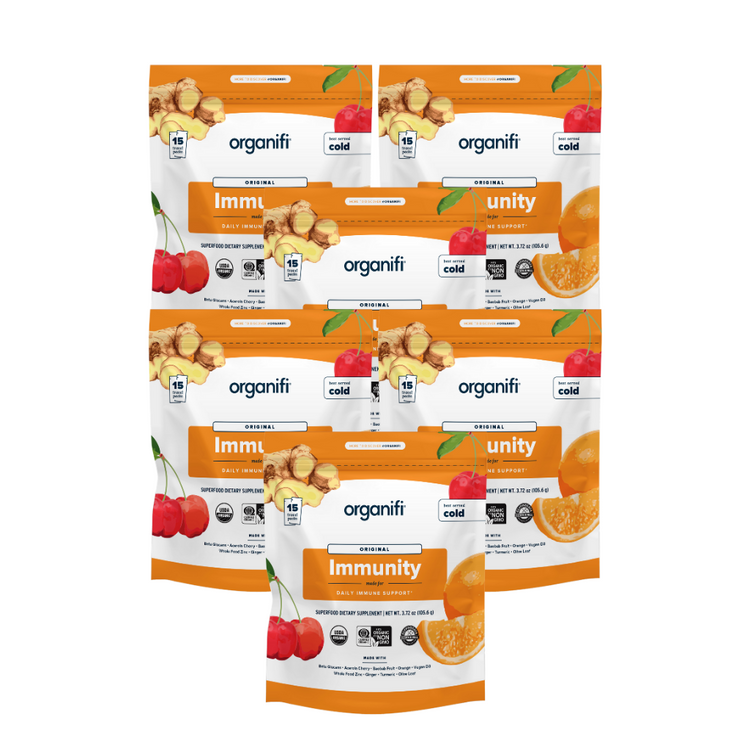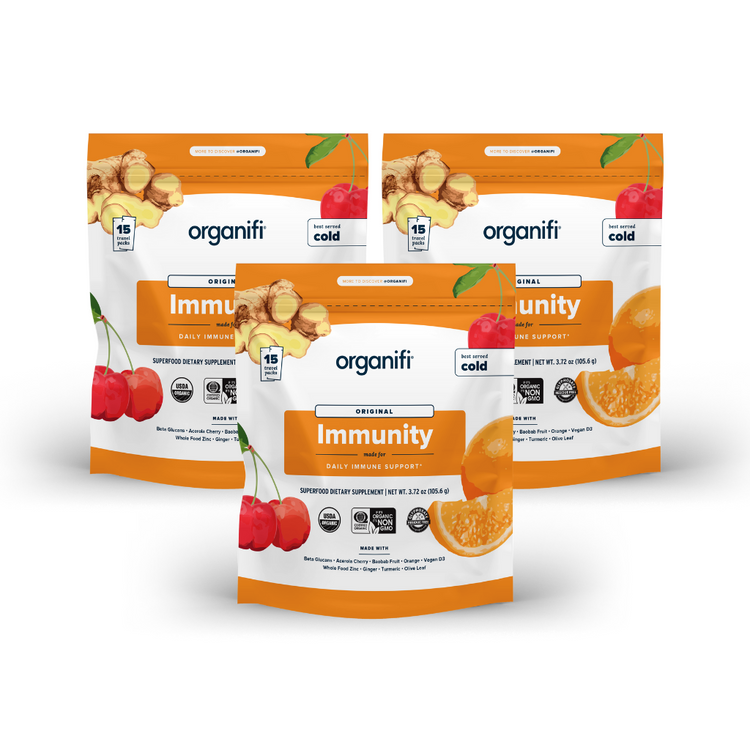 Crafted for Daily Defense
The strongest immune systems are prepared before pathogens arrive. Powered by some of Mother Nature's best defenses, immunity supports:
Upper respiratory health -  thanks to reishi mushroom with 70% beta-glucans.
T-Cell production - made possible with highly bioavailable zinc.
Optimum vitamin C levels  - sourced from organic, low-sugar adaptogens.
Delicious Immune Support
"Loving the fresh orange taste!" - Kerry T., Verified Buyer
Enjoy a refreshing glass of citrus Immunity lightly sweetened with zero-sugar monk fruit and tastes of real orange, baobab fruit, ginger, and acerola cherry.

Freeze-Dried Orange
Freeze-dried to preserve nutrients, it's rich in vitamin C, antioxidants such as flavonoids and carotenoids, and magnesium and potassium.
Beta-Glucans Extracted From Reishi Mushrooms
Beta-Glucans have been shown to support and modulate the immune system, leading to a healthy immune response without overstimulating the immune system.
Acerola Cherry
A powerful source of vitamin C, making it a powerful antioxidant supporting healthy blood vessels, immunity, and skin health.

Vitamin D3
Real plant-based vitamin D3, sourced from lichen. Vitamin D is an essential fat-soluble vitamin, necessary for immune health, energy, and bone health. 
Zinc
Zinc is an essential mineral for growth and repair, hormone production, digestion, immunity, and many other essential functions. Our zinc is an amino acid chelate, making it easy to absorb.

Turmeric
An ancient restorative root containing the active ingredient Curcumin, it supports a healthy immune system and exercise-induced muscle soreness.
Ginger
A soothing herb with a vast array of therapeutic compounds and adaptogen-like properties, it's widely known to aid in digestion and immunity support.
Baobab
A potent antioxidant that contains 10 times more vitamin C than oranges. It contains anti-inflammatory, antiviral, and antimicrobial properties.

Acacia
Sourced from the sap of the Acacia tree, it promotes good bacteria in the gut and may decrease cholesterol and blood sugar levels.
Superfoods to Keep the Body Protected
Ingredients like acerola cherry and 8 other fortifying superfoods. learn more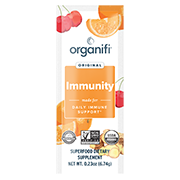 Anytime Immune Support
You can recharge your defenses at any point in the day. Because Immunity supports your body's defense system, it's best to take it earlier in the day or early afternoon. It contains zero stimulants, so most people are able to enjoy Immunity in the evening without affecting their sleep cycle.
Why is Daily Defense Important?
Prevention is easier than treatment. Give your body its best chance of overcoming pathogens by keeping your immune system fortified before invaders arrive. It takes time to create and activate white blood cells. By bolstering your natural defenses on a daily basis with beta-glucans, vitamin C, and zinc, your body is more likely to protect against harmful bacteria before they become a threat. Vitamin C and zinc are essential for proper immune functioning. Studies have shown that getting enough of both may help reduce symptoms and shorten the duration of various illnesses. Beta-glucans have the ability to modulate the immune system, which leads to a healthy immune response without overstimulating the immune system.
Pair With These Other Adaptogenic Blends
Design Your All-Day, Everyday Routine.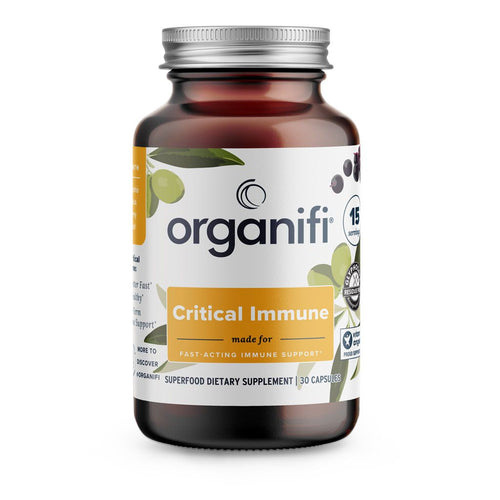 Critical Immune
Fast-acting immune support for quicker recovery and stronger sense of well-bring.
add to cart - $27.99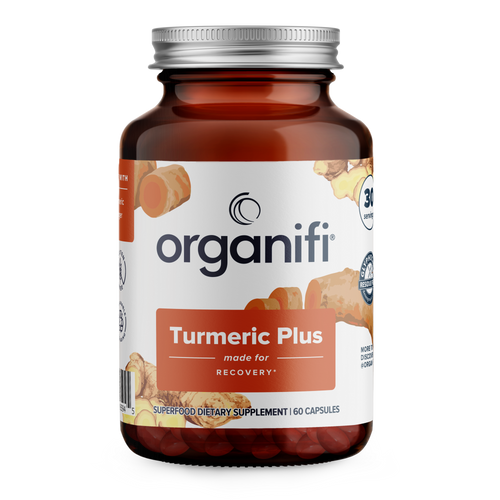 Turmeric Plus
Turmeric Plus is an organic superfood powder that provides natural inflammation and immune support with the goodness of turmeric and other powerful superfoods.
add to cart - $30.00