Green Juice 101
The popularity of Green Juice has exploded over recent years, with everything from powders, to cold-pressed juices, to packets, and seemingly never ending DIY recipes. We're going to break down the most asked questions related to Green Juice, so you can set yourself up for making wellness easy.
Green juice, simply stated, is a drink that you get when combining multiple green vegetables into a blender or juicer and breaking them down into a liquid form you can drink on the go.
Vegetable consumption has been well researched to provide a variety of health benefits.
There are many options and combinations of green vegetables that can be juiced together and some people may prefer to add fruit for flavor, since juicing vegetables only may not excite the taste buds. A healthy green smoothie with fruit can come in many combinations, for example adding banana or apple to sweeten the drink.
What is Green Juice Good for?
Green juice is a great option for people who, for a variety of reasons, are unable to include a good amount of vegetables as part of their regular diet. Green juice provides a great dietary convenience option for these people so they can have their vegetables on the go in their fast-paced life before work in the morning or any other time where it works for them. This fast-paced lifestyle is highly conducive to a poor diet full of excess sugar, caffeine, and processed foods. Replacing some of these items with green juice can help the mind and body in a variety of ways.
Green juice is also very good for people who are carrying high amounts of stress in their life. Stress can deplete your adrenal glands which can lead to a variety of problems including sleep disturbances. A perfect example of this is new parents who are very likely to be sleep-deprived in the early stages of their child's life.  Green juice can help the body be more resilient to stress which may promote more restful sleep.
An additional benefit of consuming this is the improved resilience to environmental toxins, particularly those who are living in a city with a high amount of pollutants. Some people are also particularly prone to illness with or without environmental toxins. While green juice may not completely flush the toxins out of your system, when consumed in the appropriate amounts, it can help your body and immune system better handle any damage that comes from these pollutants.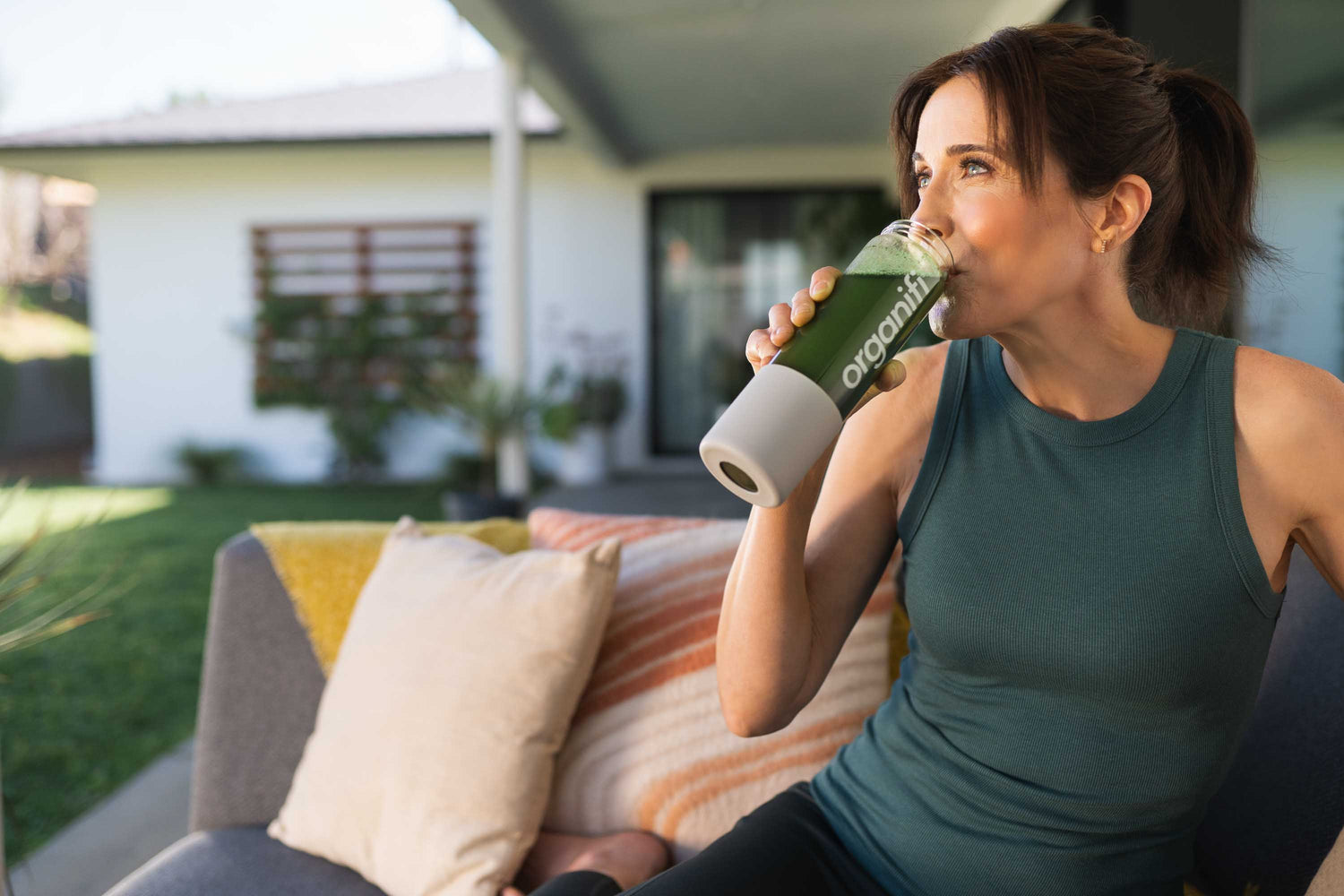 How Often can you Drink Green Juice?
What is an appropriate amount of green juice to drink? As always, consulting with your doctor will give you the best answer for your individual situation. Research is mixed on how often you can drink green juice however a good rule of thumb starting out is to drink it once per day. The standard American diet is typically high in sugar and calories that provide no benefit to our bodies. The diet is optimized for speed and grab-on-the-go sugary breakfast bars, chips, snacks, and various other low-value foods. People consuming this diet can benefit greatly from swapping the foods they are currently eating for far healthier green juices. Consuming a moderate amount such as once daily can help support vital bodily functions such as warding off cravings.
Can you Use Green Juice to Support Cravings & Weight Management?
Losing weight and maintaining a healthy weight are among the most difficult parts of a health journey for many people. The proliferation of sugary snacks, cheap food, and a hectic, always-on world has created an environment where it is easier to make poor food choices in order to optimize for speed and convenience. Rushing the kids out of the house in the morning and trying to get yourself ready for work does not provide adequate time for extensive preparation of a healthy diet rich in nutrients.
It is this same fast-paced lifestyle and imbalanced nutrition that both creates the conditions for stress and makes the stress worse when it arrives. When the body lacks adequate nutrients to help key bodily functions perform at their best, people will struggle. It's like driving a vehicle for many miles over the recommended oil change limit only to see the engine begin to struggle from toxins that have built up.
Speaking of stress, the specific hormone that builds up under stress is cortisol. Excess cortisol buildup has been linked to a spike in cravings as a way to mitigate the stress, which leads to excess weight (particularly around the midsection) that can be very difficult to get rid of. Consuming the best green juice you can make on a regular basis will help bring the body back in balance, especially when combined with lifestyle and other dietary changes.
What is KSM-66 Ashwagandha?
KSM-66 Ashwagandhais a different composition of this adaptogenic herb than traditional ashwagandha. The KSM-66 variety is made up primarily of the roots of the herb and does not use any of the leaves. The primary rationale for this is that the leaves are believed to have been used primarily for topical treatments on the skin i.e. burns and cuts/scrapes, versus helping internal bodily functions. This is similar to how you eat an apple; the skin of the apple provides different benefits than the core and as such, it is important to consume the parts that have the most benefit if you are unable to consume all of it.
How Much is a Clinical Dose of Ashwagandha?
It can sometimes be confusing to know how much of a dietary supplement you should consume for maximum benefits. Additionally, as we've covered, consuming too much of a given supplement can not only be unnecessary but in some cases can cause adverse side effects. Ashwagandha is no different than any other dietary supplement and it is important to know how much to consume. 600MG is considered a good clinical dose of Ashwagandha to consume for all of the benefits it provides, for example managing those aforementioned cortisol levels.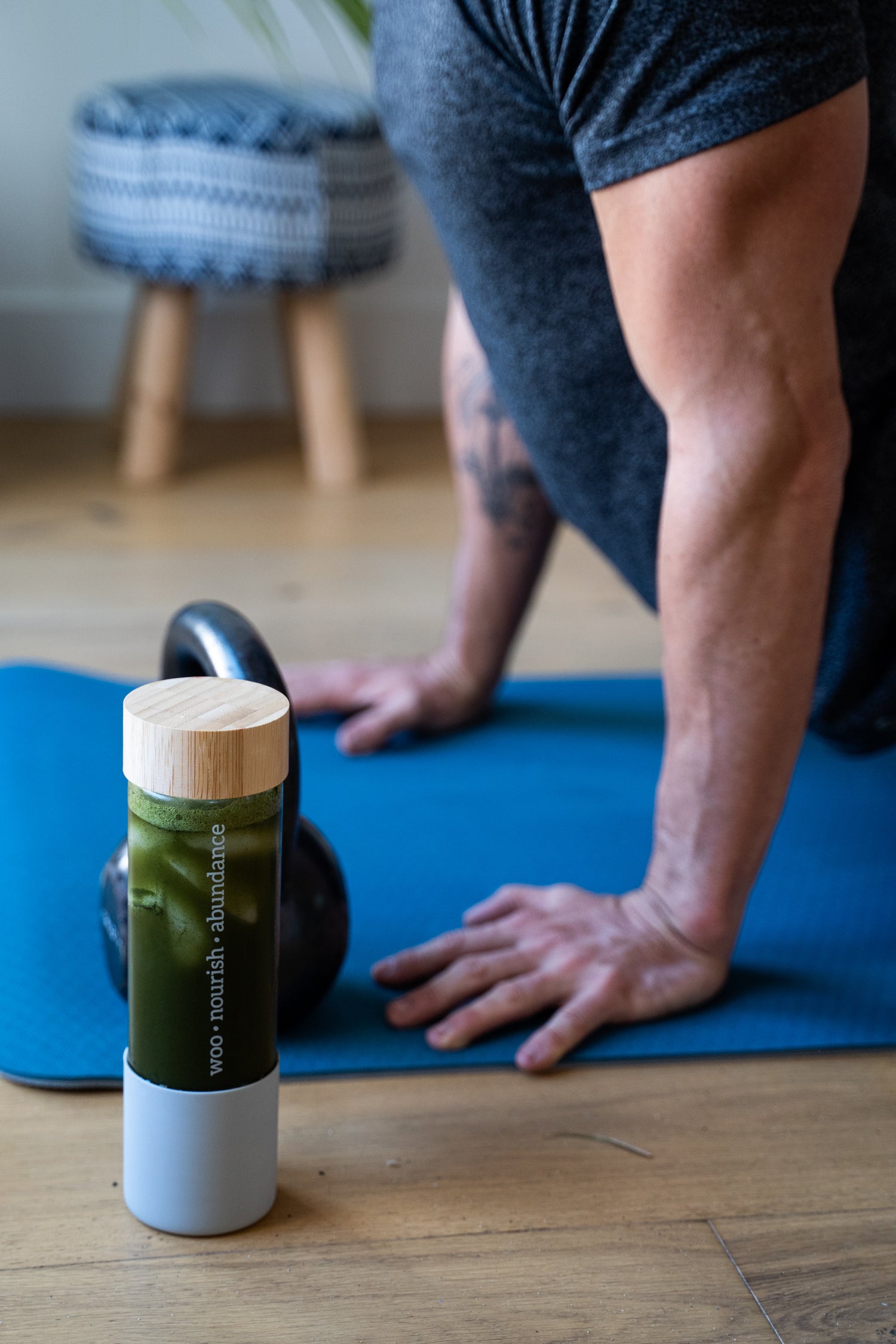 Can Cortisol Affect Weight Management or Weight Gain?
Balancing cortisol levels is crucial to managing energy, mood, and cravings throughout the day. Cortisol levels are highest in the morning as cortisol is responsible for helping us wake up from sleep and get moving for the day first thing. Cortisol then drops throughout the day leading up to its lowest levels at night for sleep before the pattern repeats the next day. When everything is in balance for us, this cycle continues uninterrupted.

However, as we know from experiencing our own lives day to day, everything is not always in balance. Stress is a significant contributor to unbalanced cortisol levels since it has been shown that stress increases the amount of cortisol in the body. When high levels of cortisol are present it can be difficult to fall asleep or stay asleep throughout the night.
High levels of stress and therefore high levels of cortisol have been linked to decreased energy, decreased ability to handle stress, difficulty regulating blood sugar, and maintaining the energy required to handle the demands of the day. When we are in periods of high stress and anxiety or depression it is natural to look for things that make us feel good to offset these feelings. 
Therefore, it should be no surprise that one of the primary ways we cope with these challenges is reaching for food or drink that tastes good to us. Food or drink that tastes good releases other chemicals in our brain that temporarily boost our mood. The key here is the word "temporary" because this does not last and creates a cycle where we need to consume more to maintain that same feeling. Consuming more, of course, leads to weight gain which is notoriously difficult to reverse for many people.
On the positive side, balancing these cortisol levels with green juice for weight management can provide us the support we need to tackle all of life's challenges including pushing back against these cravings. The nutrients provided in the organic greens powder from Organifi can bring this balance to your bodily systems and let you focus on being productive instead of focusing on overeating a high amount of processed foods that are designed to taste good but not designed to help you function at your best. Additionally, green juice can help strengthen your immune system to combat any viruses that come your way. 
Can Green Juices Support My Immune System?
A strong immune system is vital to maintaining optimal health and avoiding viruses that are pervasive in our society. The immune system is very complex and many opinions on it exist in society and the medical community. Many celebrities and athletes have their version of a juice cleanse that they sometimes "guarantee" many benefits for anyone who buys them. Stepping back from the many promises that are made on a regular basis, is it indisputable that a strong immune system is important to a healthy life.
Green juice can support your immune system in a variety of ways. It is well researched that vegetables of all kinds provide different vitamins and minerals to benefit all different vital organs in the body. Juicing any combination of these vegetables can provide a variety of benefits, whether it is kale, spinach, etc. A conversation with your doctor is best but also a simple google search will highlight a variety of reputable organizations with detailed research on exactly how vegetables help the body.
Immunity Boosting Ingredients that your Green Juice Should Have
Not all green juices are created equal. Some are heavier in unnecessary sugar for flavor that adds no nutritional value and others are too heavy in only a couple of ingredients. Whether you are doing a green juice cleanse, a green juice detox, or just looking to add some healthy food options into your diet, the best green juice products contain a balance of ingredients to benefit your entire body, such as organifi green juice
Organifi green juice contains 11 ingredients that have a wide variety of benefits. The first ingredient is called Organic tumeric root. Turmeric is an ancient root that has been used for over 4,000 years and may help promote a healthy response to discomfort, be it from exercise or just natural aging. Turmeric is noteworthy for the role it plays in boosting immunity, which as mentioned earlier can be negatively impacted by our stress levels.
Organic Moringa Powder is the next ingredient and, similar to Tumeric, has been used for thousands of years, particularly in Aryuvedic medicine. Moringa has the nickname "the miracle plant" as it may be able to help nourish the body and support the immune system. It contains many vitamins, minerals, amino acids, and antioxidants. It is these essentials that help combat toxins, support digestive health, and balance hormones.
Organic spirulina powder is another ingredient in this formula that is loaded with antioxidants. We have mentioned antioxidants a few times so it is worth a reminder that antioxidants can help fight free radicals in the body, which if allowed to build up, can cause illness throughout the body in a variety of forms. Antioxidants are an essential addition to a healthy diet for the role they play in helping the body perform optimally.

In addition to antioxidants, spirulina has been shown to increase energy and boost our cellular motivation, two key aspects of being able to exercise and burn calories at a faster rate for weight management. Spirulina is also an anti-fungal, can support healthy blood sugar levels, and assist the body's natural detoxifying of chemical pollutants and heavy metals.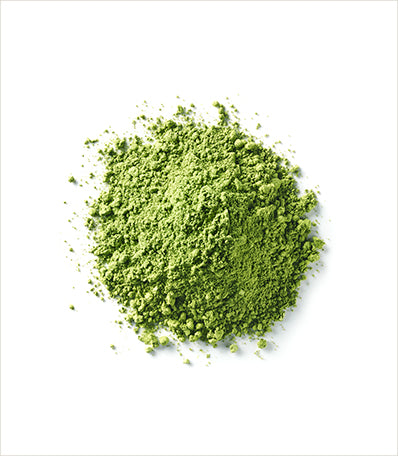 Organic chlorella is another ingredient in this juice that brings potential health benefits. Similar to the other ingredients it is rich in antioxidants, vitamins, and nutrients. Chlorella is especially high in chlorophyll, which acts as a blood, bowel, and liver cleanser that can boost energy. Like spirulina, chlorella has also been shown to help the body detox from pollutants such as heavy metals.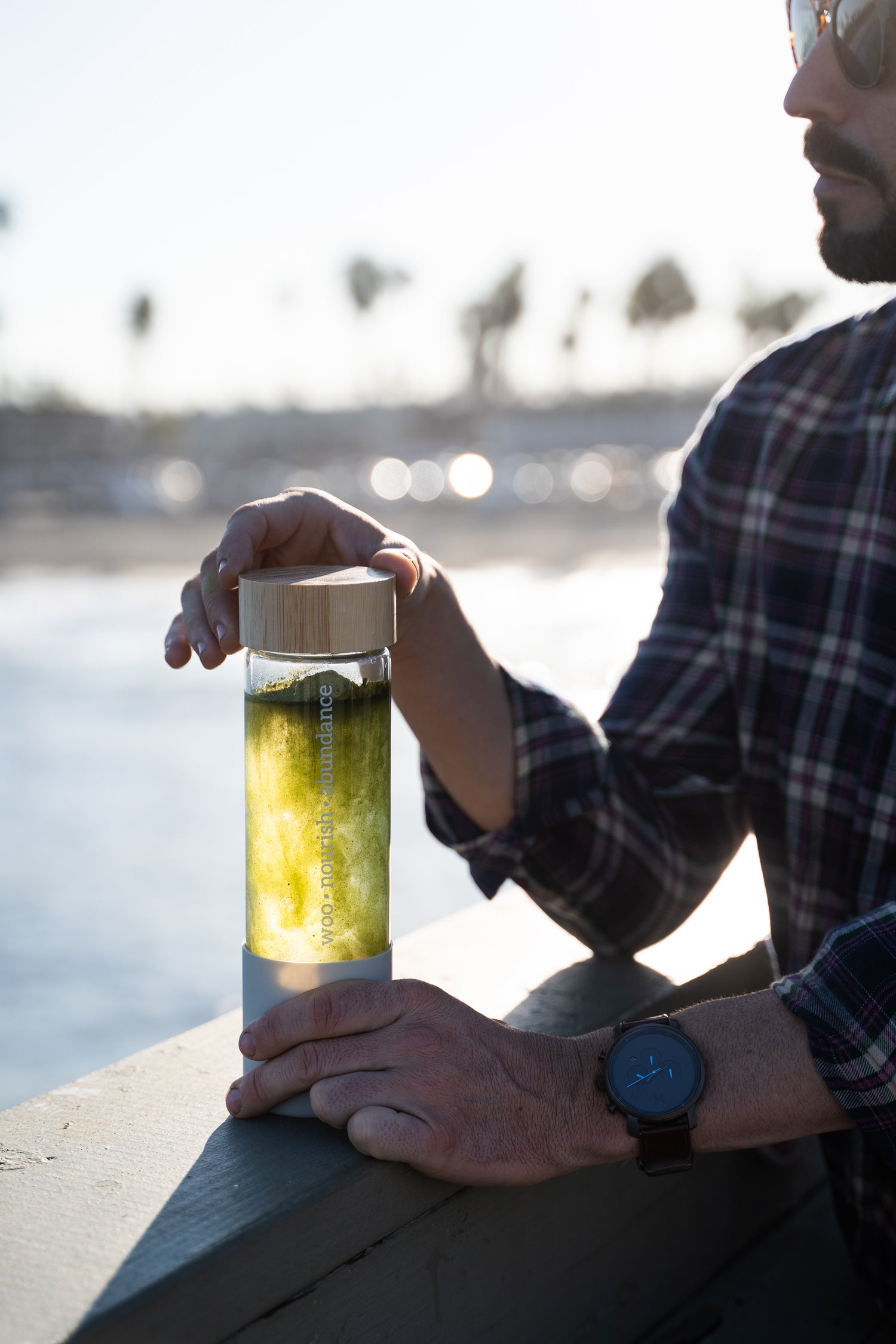 Organic matcha green tea powder is an ingredient in this product that also acts as a powerful antioxidant. Matcha comes from the same Camellia Sinensis plant as green tea and is higher in chlorophyll than other teas due to the growing techniques involved. Matcha green tea powder provides a boost in cellular motivation, which as discussed previously can help promote healthy weight management. It could also provide support in energy and recovery after physical activity, which helps you get ready for the next round of activity faster. Lastly, this possesses L-Theanine, which is an amino acid that can trigger alertness, a encourage mental clarity, stimulation of neurotransmitters, and an all-important reduction in stress.
Next in the ingredient list is organic wheatgrass powder. This ingredient has been in existence for over 5,000 years and was loved by the ancient Egyptians for its beneficial effects on their health and vitality. The benefit of all these ingredients working together is a multiplier effect of boosting the body with similar benefits across all of them, for example the presence of antioxidants in wheatgrass powder help support immune system health. 
Wheatgrass powder is also rich in chlorophyll, vitamins and minerals to help boost nutrient absorption and alkalize the body. Alkalizing the body helps keep acid levels at the right balance to reduce risk of kidney issues and other bodily functions.  Wheatgrass has been shown to promote overall immunity, helping ward off those colds and winter illness. Some studies suggest wheatgrass has chelating properties and could be beneficial in removing metals from the body. We have mentioned heavy metals a couple of times so it's important to point out that too much heavy metal buildup in the body can disrupt metabolic processes and result in a variety of health disorders.
Organic red beet powder is also present in this product and has several benefits. In addition to containing vitamins, minerals, and antioxidants, red beet powder contains nitrate, which is a natural way of boosting nitric oxide in the body. Nitrates are beneficial because they help circulation (blood flowing more efficiently) and may help support healthy heart measurements. Due to these properties, red beet powder is thought of as cardioprotective and good at supporting overall endurance.
Organic coconut water powder is one of the 11 ingredients as well and brings with it similar antioxidant benefitting properties as the other ingredients. Coconut water has been consumed for centuries by those in tropical regions and the coconut tree specifically is referred to as "the tree which gives all that is necessary for living." An important benefit of this ingredient is the high amount of electrolytes, particularly potassium, which can help promote lower muscle fatigue or help the body recover from periods of high sweating, i.e. in a sauna or after an intense workout.
Organic lemon powder is one of the final two ingredients in this product, containing a high amount of vitamin C and antioxidants. Vitamin C is well researched as an immune-supporting vitamin that can help speed up recovery from illnesses. Lemons, especially when squeezed into water raw or via the powder as part of this drink, can help you start the day right by cleansing the body and preparing it for the day ahead. Lemon powder also has the benefits of enhancing overall cellular motivation, digestion, and the balance of alkalinity in the body.
The final ingredient is called Organic Prebiotic Powder. Gut health is essential for regulating the body and overall immunity; this ingredient may help increase probiotic concentration in the gut which improves overall gut health. Additionally, this ingredient is a combination of soluble fiber and digestive-resistant starch that is shown to help reduce the glycemic response, helping overall blood sugar levels. Lastly, due to its bulking effects, this ingredient helps improve mineral absorption, prevent constipation, and improve overall digestive health.
Conclusion
Green juice can have many benefits for a variety of bodily systems. In today's fast-paced world it is difficult to get the proper nutrition when we are always on the go. To help us be at our best we can save time using products like Organifi Green Juice, which also has the benefit of delicious tasting mint and other flavors. The best results may come with regular consumption at a frequency that makes sense for the individual after consulting with their doctor. When combined with regular activity and other important positive lifestyle habits, products such as this one can have immense benefits on our lives overall.