Brain and Body Stack
Pure • Immunity
Here's a unique approach to protecting your immune health: Start in the gut, work your way up to the brain, and let it flow out to the rest of your body!
Strengthen immunity and overall wellbeing
Sharpen the mind and prevent brain fogginess
Enhance digestion and smooth bodily function
60 DAY GUARANTEE

SECURE CHECKOUT
X
Your Gut Is the House for Your Immune System
Make sure you nourish your Gut-Brain Axis (GBA) to keep your immune system running strong. Taking Pure with Immunity is a smart and effective way to give your body the nutritional tools it needs to fight back against harmful bacteria and viruses.

Immunity
A delicious, low-sugar immune blend that provides protection with 500% of the recommended daily value of vitamin C, D3, and Zinc.

Pure
This specialized blend is formulated with ingredients proven to promote stimulation in learning, memory, focus, and clarity.
Functional Blends
A curated stack of functional superfood ingredients used throughout history in ancient remedies to replenish micronutrients, support energy, and deepen rest.
Check Out These Other Adaptogenic Blends
Design Your All-Day, Everyday Routine
Green Juice
Reset your body every morning with 11 detoxifying superfoods that reduce stress and support weight management.¹
add to cart - $69.95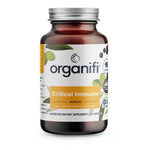 Critical Immune
Fast-acting immune support for quicker recovery and stronger sense of well-bring.
add to cart - $27.99