Fit For Festivities Bundle
Collagen Powder • Organifi Glow • Shilajit Gummy
The best way to get 'Fit For Festivities' this season than with superfood blends curated to support your total body health and wellness!
Collagen: Rejuvenate skin, nails, and vitality with five collagen types from real foods.
Glow: Achieve radiant, moisturized skin with 5X Hyaluronic Acid's moisture in a delicious mix.
Shilajit Gummies: Recharge cells with pure Himalayan Shilajit in convenient gummies.
Liver Reset: Refresh your liver for detox, digestion, and energy with Milk Thistle, Artichoke Leaf, and Triphala.
60 DAY GUARANTEE

SECURE CHECKOUT
X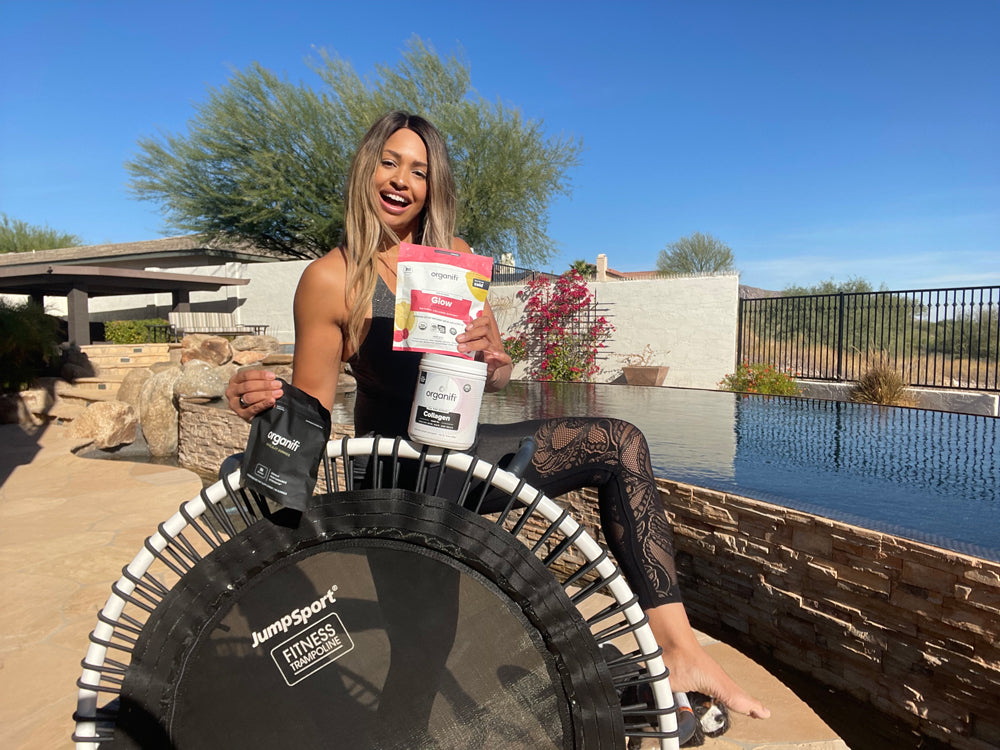 "After having my baby I noticed the days I consistently took Organifi collagen, I lost the most weight. I won't go without it now!" - Mary Darnall
Collagen
Elevate your beauty and wellness with Organifi Multi Collagen, a premium blend featuring five collagen types from four real food sources. Rediscover radiant skin, stronger nails, and overall vitality while supporting gut health and metabolism with this tasteless, versatile powder.
Glow
Experience the ultimate skin-loving blend with Organifi Glow. This delicious raspberry lemonade mix supports natural collagen production, contains ingredients that provide 5X the moisture of Hyaluronic Acid, and leaves your skin brighter and radiant from within. Elevate your skincare routine today!
Shilajit Gummies
Elevate your vitality with Shilajit Gummies, packed with pure Himalayan Shilajit. These convenient and tasty gummies support mitochondrial health, eliminate toxins, and provide essential trace minerals. Harness the ancient power of the Himalayas and recharge your body for a revitalized and energized life.
FREE! $32 Value
Liver Reset
Revitalize your liver with Organifi Liver Reset, a potent blend of Milk Thistle, Artichoke Leaf, and Triphala. This liver support formula promotes detoxification, bile production for improved digestion, and energy transformation. Keep your liver in balance and boost overall well-being with these convenient, on-the-go capsules.
Check Out These Other Adaptogenic Blends
Design Your All-Day, Everyday Routine.
Green Juice
Reset your body every morning with 11 detoxifying superfoods that reduce stress and support weight management.¹
add to cart - $69.95
Harmony
This delicious cacao blend is designed to support women's health using traditional herbs and adaptogens.
add to cart - $69.95
Choosing a selection results in a full page refresh.
Shopping Cart
(0)
Free Shipping on all US orders of $150 or more
subtotal
Final shipping cost is calculated at checkout on the subtotal after discounts and does not include taxes. Free Shipping only applies to the US.
Presale Notice
Green Juice Crisp Apple is a presale item. Any orders containing presale items will take 2-4 weeks to ship.
If you'd like to get your non-presale items sooner, please place a separate order with them.